NEW FARMING SKILLS INCREASE YIELDS, NO TURNING BACK!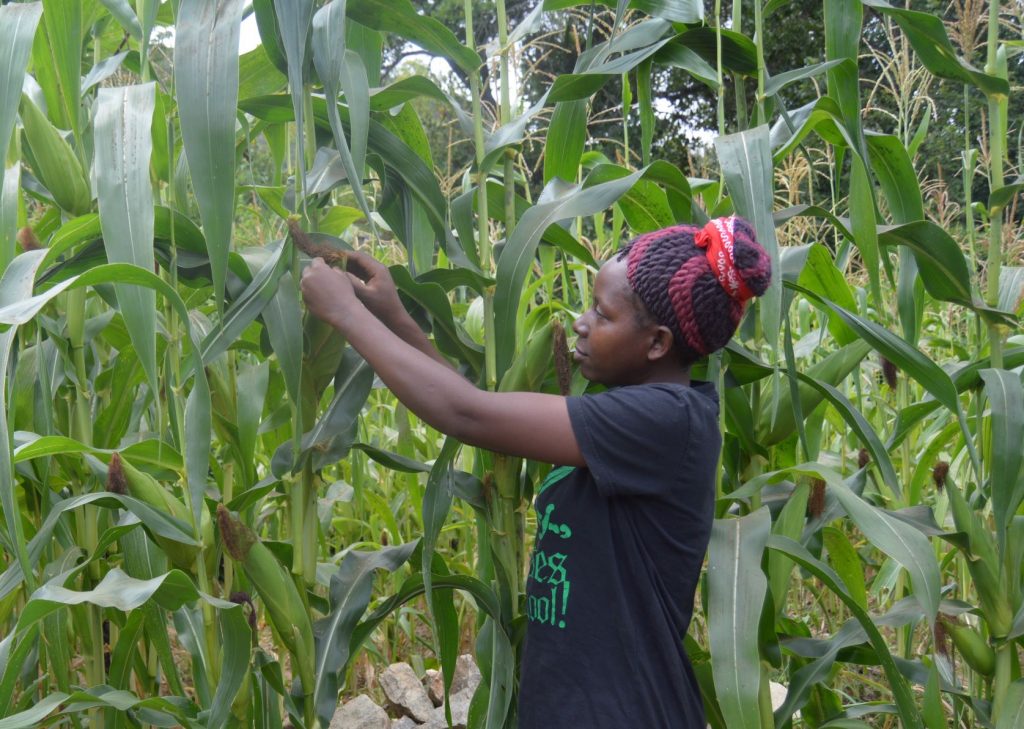 Agnes at her part of the farm where she planted maize using compost manure and on zai pits.
Ms. Agnes Muthoni is a farmer of Mwangaza self- help group, a farmer group in Mbeere, Embu County. Agnes is a youth small scale farmer and a mother of two. She relies on farming for living. Just like other farmers in Mbeere, she has experienced hardship in farming due to crop failure as a result of unreliable rains coupled with inadequate knowledge and skills on farming technologies to adopt in order to adapt with changing climate. According to Agnes, the "Ecosystem Management for improving Community Climate Change Resilience" project came to save her and restore hope in farming. 
 Since 2016 when ICE started working with her group, they have gained various skills on farming helping them increase their farm production with minimal cost. Some of practices learnt that she has adopted include use of compost manure and development of on-farm water harvesting structures such as zai pits. Before the project's intervention, Agnes concedes she used to plant seeds on bare lands i.e. with no manure/compost since she did not know how to make and could not afford the fertilizers.
The trainings on sustainable agricultural practices came during the period Agnes was so desperate for new skills to change her farming. Therefore, she could not wait to start applying the knowledge gained in her farm. She adds that getting extension services from government agriculture officers has been difficult because they are few and serving wide area.
In January 2017, Agnes started preparing her farm and amongst other preparations she developed zai pits where she planted her crops. The crops she planted included maize, beans, cowpeas and green peas. She had also prepared compost manure which she used to plant in her large portion of the one-acre farm. She said that it was not easy especially being first time adopt the practices, but she says when she now looks at her farm she knows it was worth it. In the last two seasons, Agnes harvested one bag of maize, but she is confident that this time she will harvest more than 4 bags of maize among other crops from the same size of land.
For the purpose of an experiment, Agnes did not apply compost manure nor planted on zai pits on some portion of her farm in order to compare the outcome with the areas where Zai pits and compost manure was used. She now says that results speak for themselves.
She however mentioned one of the challenge she is facing as a farmer is pest control especially on cereal crops while still on farm.  She therefore recommended for support on biological ways of dealing with pests especially in Mbeere Sub-county, which is an area where cereals can naturally do well.
She appreciates, the knowledge gained that has in turn changed farming for her and her fellow group members as well as neighbors.  Agnes reported to have trained five neighbors who are not members of Mwangaza group but admired her crops and came to seek advice on what she did. Agnes concludes by saying, No turning back!